A day full of fun with people, camera and flashes
I went to a friend's wedding ceremony to cover it. Nothing makes a photographer more happy when he sees the nicely decorated stage and some open space to move back and forth. Because most Bangladeshi wedding takes place in large ballrooms rather than terrace and open spaces seen in western weddings.
As usual, I shot some light fitting during this event which is one of my all time favorite subjects to shot, people and of course the beautiful bride. Some brides are free, never talks and sits stiffly almost all the time, and some of them talks with other and that helps a lot to take some candid shots with natural expression.
I found this chandelier hanging from the roof of the stair-case and I was very happy to shot it from this angle. Lovely!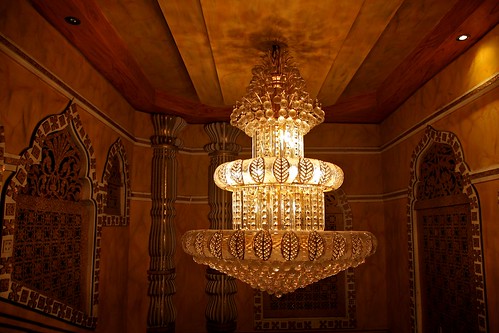 This is my co-photographer Lavlu smiling with his Nikon D5000 with a YN-560 flash mounted on it. This is a very nice flash compared to it's price. Works like a charm. This shot was taken with a 5D mark II and Canon EF 50mm f/1.4 lens.

The smiling bride. This one is post processed using Aperture and "Big Aperture".

Another shot of the bride, post processed using Aperture.

And finally, this one was taken at 2AM while me and Lavlu were categorizing our pictures after the wedding, I was testing my 70-200mm f/4 L and suddenly he looked upward to talk to me and I took this shot. Candids work superb for portraits, some time.

You can check out more from my flickr stream by clicking on any of these photos above.